Speech! Speech!
Schrijf een succesvolle toespraak
1st edition | 2004 | Rudolf Geel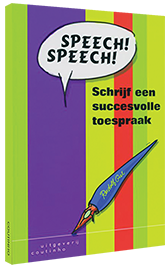 Nederlanders spreken elkaar bij allerlei gelegenheden graag toe, van de wieg tot het graf. Er wordt gespeecht bij presentaties van producten, rapporten en jaarcijfers, de nieuwjaarsborrel, huwelijken en begrafenissen, bij ambtsjubilea en het afscheid van collega's. En al die toespraken roepen weer de behoefte aan een dankwoord op. Zo trekt een eindeloze stoet sprekers aan ons voorbij. Veel sprekers hebben gemeen dat ze nogal eens de verkeerde speech houden. Leuk bedoeld, maar niet leuk uitgevallen; te lang, te saai, en voor de luisteraar moeilijk te begrijpen. Menige speech zorgt voor kromme tenen!
Speech! Speech! is bedoeld voor iedereen die uit hoofde van zijn beroep of in de familiekring een speech moet houden. De spreker kan in dit boek gericht zoeken in het hoofdstuk dat gewijd is aan de speech die hij moet houden. Voor iedere soort speech is een basisschema opgenomen, met tips voor zaken die de spreker vooral niet of juist wel moet doen.
Het boek geeft aanwijzingen voor het uitschrijven van speeches en aanbevelingen voor degenen die liever niet van papier spreken. Voor de professionals zijn adviezen opgenomen om langere toespraken beter beluisterbaar en aantrekkelijk te maken.
Door het praktische karakter kan het boek ook uitstekend gebruikt worden door mensen die zich in het kader van een opleiding moeten bekwamen in het schrijven van toespraken.