Online uitspraaktrainer - Verstaanbaar Nederlands
1st edition | 2020 | Marieke Goedegebure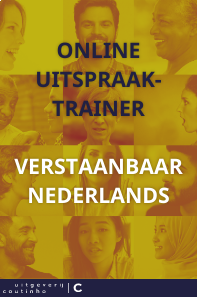 De Online uitspraaktrainer - Verstaanbaar Nederlands is bedoeld voor iedereen die op een gestructureerde en effectieve manier wil oefenen met de uitspraak van het Nederlands. De oefeningen zijn beschikbaar op drie niveaus. Deze drie niveaus staan niet gelijk aan de taalniveaus, maar zijn gebaseerd op woordlengte, woordfrequentie, zinslengte en onderwerp.


Met deze online uitspraaktrainer kun je de volgende oefeningen zelfstandig uitvoeren:
Letterkennisoefeningen: deze oefeningen bestaan uit meerkeuzevragen met twee opties. Je krijgt de spellingsregels te zien en een woord, bijvoorbeeld krabben. De vraag luidt: heeft dit woord de [aa] van naam of de [a] van jas? Je maakt een keuze en vervolgens zie je het juiste antwoord.
Luisteroefeningen: deze oefeningen zijn gericht op het onderscheiden en categoriseren van de gehoorde woorden. Je luistert naar de oefening, klikt op het antwoord en ziet vervolgens of dat goed was.
Uitspraakoefeningen: deze oefeningen zijn gericht op het inslijpen van woorden, woordcombinaties en korte zinnen.
Naast alle oefeningen zijn er ook werkbladen beschikbaar voor de curistsen.
Ben je NT2-docent? Dan raden wij je aan het boek Verstaanbaar Nederlands in zeven stappen te kopen. Dit boek is geschreven voor NT2-docenten en biedt informatie over de klemtoon, het spreekritme, de intonatie en articulatie van klanken van het Nederlands, waarbij telkens ook de invloed van de moedertaal van de cursisten belicht wordt. Alle aspecten van verstaanbaarheid worden uitgewerkt in zeven praktische stappen. Bij dit boek hoort ook een website. Op deze website vind je naast alle oefeningen en werkbladen die op de Online uitspraaktrainer staan, dialogen, bijstuuroefeningen, spelonderdelen en een voortgangsoverzicht voor docenten.